Taking intelligent actions now enhances efficiency in the years to come. Become a paperless office with digitized business processes from edoc!
Digital solutions from edoc give your document-based processes the efficiency and versatility to thrive in the 21st century. Ensuring significantly reduced throughput times, noticeably lower costs and full transparency. These solutions can be integrated directly into any IT infrastructure or existing ERP environment so that all users can continue working with the environment they know best. It couldn't be simpler.

By bringing edoc on board, you could have an expert overseeing your processes for the foreseeable future. It doesn't matter where your digitization strategy is headed, our software can lead you there. And the application always stays the same.
Do you have questions about our digital ECM solutions for your existing ERP? Why not arrange a meeting now — within 15 minutes, we'll have you convinced!

Arrange a meeting

Create a strong foundation with the edoc 365 business process platform
The edoc 365 business process platform lays the foundation for any document-based business processes that you want to digitize in your company now and in the future. We support P2P processes from the receipt of the requisition note to posting in the system, with one major advantage: all new software applications can be easily implemented. The software and its operation always stay the same. What's more, you are investing in a long-term stable system that adjusts to your needs. As our motto says: "Start small – think big." Just get in touch!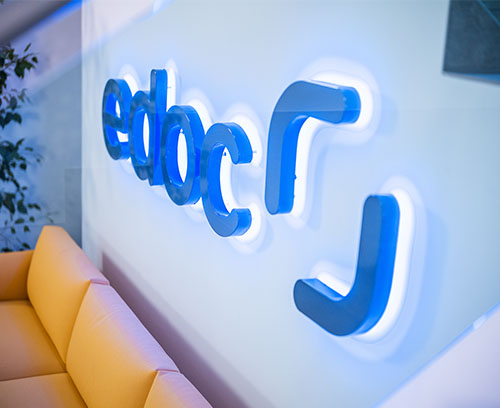 We are once again grateful to have had help from the edoc team in developing part of our digital roadmap. By successfully automating purchasing processes and using AI in IT processes, we were able to benefit from state-of-the-art intelligence. From both a theoretical and practical point of view, edoc has expertise in both d.3ecm and Infor – and always keeps a close eye on any developments.
Peter Herzog, Project Manager of the Production Organization for the ESCHA Group
Compliance doesn't have to be a headache! 
Digitization solutions from edoc meet all compliance guidelines such as GDPdU (principles for data access and the verifiability of digital documents), HGB, GoB, GoBS, GoBD, SOX and more. In addition, our solutions support regulatory data protection requirements such as the GDPR. Last but not least, they meet all the requirements for long-term, legally compliant and audit-proof storage of your business-critical documents and data.
Compliance? Check!