Assuming social and ecological responsibility plays an important role at edoc and is an integral part of our corporate culture.
At the heart of everything we do is a strong committment to balance our economic activities with these responsibilities and to put people first at all times. This concept shapes the way we behave toward our employees and partners, how we treat the environment, get involved in society and view our economy.
A company is nothing without its people
That is why we see it as an essential part of our corporate responsibility to offer everyone who contributes their knowledge, their time and their personal involvement to edoc a secure, stable and long-term future through responsible entrepreneurial activity. We also aim to create an atmosphere in which everyone can grow and work freely by showing appreciation, recognizing achievements and interacting with one another in the best possible way. Working in a team that has fun and spreads enjoyment.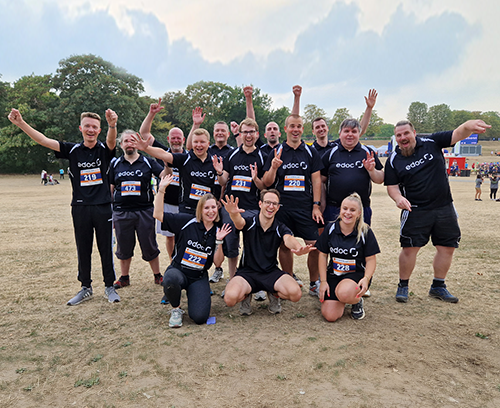 edoc supports social projects
From the outset, we have donated our time and money to campaigns for amazing charitable projects in our region and beyond. Our focus is primarily on children and youth sports.
The projects, institutions and clubs that have won over our hearts in recent years include the Weilerswist food bank, the corporate run in Bonn's Rheinaue leisure park, the "Stark für Kinder" association, the efforts to combat bullying in schools, the campaigns run by the Herzensfreunde association for severely ill children and the Weilerswist initiative for refugee aid.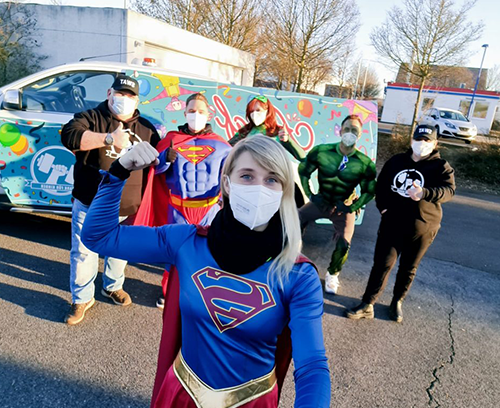 edoc cares about the environment
We take our responsibility towards the environment very seriously. In the spirit of true sustainability, we therefore strive as a company to only use resources to the extent that they can regenerate. We consistently use energy-efficient devices and systems and have a certified energy management system.
Our own solar panels provide around 82 kWp and the rest of our electricity comes from renewable energy sources. We have drastically reduced the number of servers we operate and instead use cloud providers with proven carbon neutrality. Our client PC is subject to an overnight shutdown requirement. And in addition to structural measures such as insulation, we promote e-mobility with e-charging points for cars and bikes as well as car-free transport with company bikes.
edoc contributes to a responsible economy
At edoc, ethical management includes, among other things, the responsible design of our products, services, marketing measures and relationships with suppliers and partners. This includes transparency, fairness in competition and compliance with human rights throughout the entire supply chain. We also make a conscious decision to use local companies as much as possible.
We try not to get involved in lengthy tenders or minor price negotiations. We believe a reputation of trust and long-term cooperation is much more important – collaboration rather than competition. After all, we need to work together to overcome the challenges of the future.